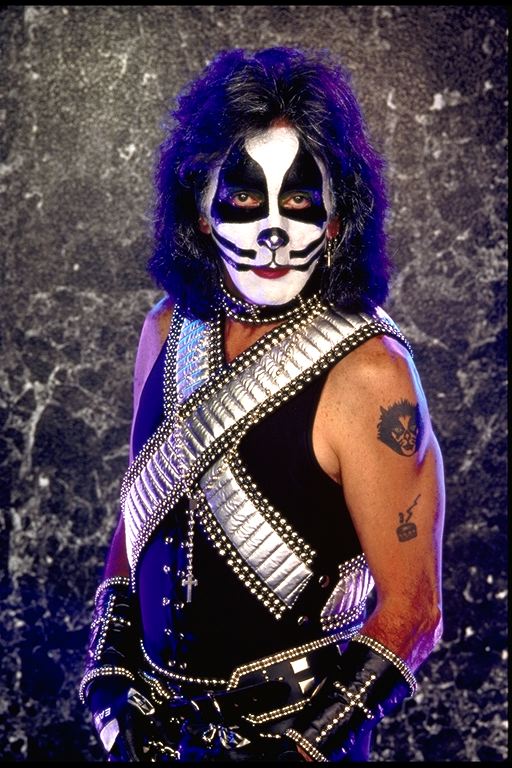 Peter Criss
Real name: Peter George John Crisscoula
Hair color: brown
Eyes: brown
High: 1.73
Favorite color: green
Birthdate: 12. 20. 1945
Residence: Los Angeles
Marital Status: He is married to his third wife, Gigi
Chirldren: His daughter Jenilee
Hobbies: Cats, guns and drawing sketches
KISS-character: The Catman
KISSmember since 1972 to 1980 and from 1996 ( with a break ) untill 2003
Instruments: Drums and vocals
Influences: Jazz, Big Band, Gene Krupa, The Beatles, The Rolling Stones
Bands before KISS: The Baracudas, Chelsea, LIPS
Films: KISS meets the Phantom of the Park (1978 ), OZ ( 1997 ), Detroit Rock City ( 1999)
About Peter Criss:
As the eldest of five siblings Peter was born on 12.20.1945 and had the most expirience of all KISS members, 13 years all together. He obtained his drumming equipment while he was working on a butchers shop. Peter was a big Gene Krupa fan and he saw him live on the drumms serveral times. But he was not Peter's only influence. The other great influence had ( like on the other KISS member ) The Beatles on him.
When Peter became involved with his first band he was 18 years old. In 1966 Peter moved to a Jazz coverband, the Baracudas. In the late 1968 Peter joined Chelsea and stayed in the band until he met Gene and Paul. Chelsea even had a recording contract and the chance to play in bigger clubs. In 1969 they entered the studios to record their album. But the band failed miserably. Chelsea tried very hard but in the end non of their efforts helped the band to take off. So they split up and formed the band LIPS.
In 1972 Peter placed an add in the Rolling Stone Magazine "Drummer willing to to anything to make it" and went on honeymoon with his first wife Lydia. When they came back Peter got an response to his add from Gene. He called Peter and they met outside the Electric Lady Studios in a car. Shortly after this meeting Peter was hired and they played as a trio in a band called Wicked Lester.
Peter has left KISS again. He wants to publish a Jazz album next time.