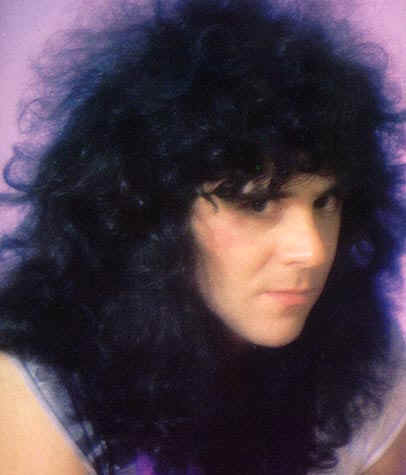 Eric Carr
Real Name: Paul Charles Caravello
Hair color: black
Eyes: brown
High: 1.72
Favorite color: -
Birthdate: 7.12.1950
Birthplace: Brooklyn, New York
Residence: New York
Marital Status: single
Children: -
Hobbies: drawing and music
KISS Character: The Fox
KISS member since 1980 - 1991
Instruments: Drums, Lead Vocals, Harmonica
Influences: The Beatles, Led Zeppelin, The Who, Neil Young, R&B
Bands Before KISS: The Cellarmen, Mother Nature/Father Time, Flasher
Eric died on November 24 1991 of cancer.
About Eric Carr:
After his parents immigrated from Palermo to the United States Paul Charles Caravello was born in Brooklyn New York on July 12 1950. Music had always been an important part in his life since he was a child. His Grandfather tried to teach him to play trumpet but he wasnt interested because he was only eight years old at that time but he wanted to become the second Ringo Star when The Beatles became famous in America. When Eric attended the High School he got always new drumkits and drowe his neighbours wild with it. In 1965 formed his first band 'The Cellarmen'. They became really popular even though they were not old enough to buy alcohol.
In the 70ies Eric played in a band called Salt&Pepper. The expiriences Eric made in this band got him the basic skills wich were very usefull for his upcoming music career. They were really famous so they even opened for Stevie Wonder. But there was also a sad incident wich made them famous at this time. One night at one of their gigs a fire broke out at the club they were playing at and killed besides 22 guests the new hired hired keyboarder and the lead singer of the band. In the end Eric appeared to be a hearo because he saved their female lead singer. After this tragig event and the loss of two of their bandmemembers and most of their equipment they changed the bands name into 'Mother Nature / Father Time'. In the end of the 70ies Eric joined a new band called 'Flasher'. This was the time when Peter left KISS and Eric thought about playing for the free drummers stool. After he had send his application documents and sound examples to KISS Eric was invited to an audition with KISS and had to learn a few songs for the very next day.
The first thing Paul Caravello as the new member of KISS had to do was to change his name because there was another Paul already in the band. This was easier than finding a new make up character and after many ideas and suggestions Eric came up with the Fox. Shortly after that Eric was introduced to the KISS fans.
After happy years of concerts and tv appeareances Eric began to feel sick and went to the doctor. He found out that he was suffering from cancer and he had to undergo several surgeries. Afer this was done Eric felt that people treated him differend and he wrote songs about this feeling. At that time they were recording God Gave Rock n Roll To You II. Because of Erics bad condition Paul took the drummer from his solo Tour - Eric Singer - while Eric Carr was doing the back ground vocals.
In June 1991 Eric discovered that his disease got even worse and he had to undergo a chemotherapy while the other guys were putting new material together for their new album. The therapy seemed to be succses and he felt strong enough to to play drums for twelwe hours during the filming of the GGRNRII video but shortly after the American Music Awards he suffert a brain hemorrhage and was unconcious for a long time. After a second hemorrhage he died in a hospital on november 24 1991.
His death was a shock for all KISS fans. We all miss him.